Brace your bank accounts, it's time to see what's Now Available to Own for the week of April 14, 2015. Every Tuesday we run down new movie, television, and video game releases that you can enjoy in the comfort of your own home, as well as some slick deals that can save you some coin. New on shelves this week are Big Eyes, The Babadook, Mortal Kombat X, and more, which you can find after the jump.
Movies on Blu-ray
Big Eyes (Tim Burton) Rated PG-13 [105 min] – A drama about the awakening of the painter Margaret Keane, her phenomenal success in the 1950s, and the subsequent legal difficulties she had with her husband, who claimed credit for her works in the 1960s. Starring Amy Adams, Christoph Waltz, Krysten Ritter, and Jason Schwartzman
Tim Burton's latest is pretty vanilla coming from the man who brought us Edward Scissorhands, Alice in Wonderland, and Beetlejuice. Big Eyes doesn't have any strange trees or oddball characters, it's just a simple story about the life of famous painter Margaret Keane and her relationship with her husband. Nothing more. RENT IT. Special features included are:
The Making of Big Eyes Featurette
Q&A Highlights
The Babadook (Jennifer Kent) Not Rated [93 min] – A single mother, plagued by the violent death of her husband, battles with her son's fear of a monster lurking in the house, but soon discovers a sinister presence all around her. Starring Essie Davis, Noah Wiseman, Daniel Henshall, and Hayley McElhinney
I'm quite taken aback by all of the praise The Babadook has received from other critics. I was really looking forward to seeing it, but was let down with how average it is. It's neither terrifying nor inventive, and I despise the little kid in the film. The Babadook is also pretty dull with little reward to compensate for its plodding pace. There are worse horror movies out there though. NETFLIX IT! Special features included are:
Director-Approved Limited Run "Pop-up Book" slipcover packaging (Note:The wrap itself inside will be the art reflected on the standard Blu-ray edition) (Special Edition Blu-ray Only)
Director Jennifer Kent's short film MONSTER (Special Edition Blu-ray Only)
Deleted Scenes (Special Edition Blu-ray Only)
Cast and Crew interviews and a look behind-the-scenes of the making of the film:

Creating The Book with illustrator Alex Juhasz
A Tour of the House Set
The Stunts: Jumping the stairs
Special Effects: The Stabbing

Theatrical Trailers
Maps to the Stars (David Cronenberg) Rated R [111 min] – A tour into the heart of a Hollywood family chasing celebrity, one another and the relentless ghosts of their pasts. Starring Julianne Moore, Mia Wasikowska, Robert Pattinson, John Cusack
I have not seen this film, but Cronenberg's Cosmopolis was quite interesting and I'd be interested to see what all the hubbub of Maps to the Stars is about. NETFLIX IT! No special features.
Batman vs. Robin (Jay Oliva) Unrated [80 min] – The shadows of Gotham City are no place for a child but Damian Wayne is no ordinary child. Now bearing the mantle of Robin, he blazes a headstrong and sometimes reckless trail alongside his father, Batman. While investigating a crime scene, Robin encounters a mysterious figure, Talon, who leads him on a life-altering course through the depths of Gotham's secret society, known as The Court of Owls. It's a dangerous journey that will force Batman and Robin to face their most dangerous adversary: each other. Starring Jason O'Mara, Stuart Allan, Jeremy Sisto, Al Yankovic, David McCallum, Grey Griffin, Sean Maher, and Kevin Conroy
As a follow up to Son of Batman, the direction of character development makes sense for Bruce and Damien, However, the story itself, regarding the Court of Owls is pretty substandard for your typical Batman fare. The action is animated very well, but the sense of danger is kind of diminished after Batman continues to take pounding after pounding and recover in a matter of hours. I don't think Talon is a Gotham villain that will go down in the books at the upper echelon with The Joker or Poison Ivy, but he is a skillful opponent. NETFLIX IT! Special features included are:
Gotham's City Secret: The Mythic Court of Owls – The Court of Owls is the secret society that directly connects the past of Gotham to the current city. Are they silent guardians that are the noble benefactors or are they the malevolent force that manipulates a city toward their grand design? (Blu-ray Exclusive)
Talons of the Owl – If the Owls are the masterminds, their instruments of destruction are their assassins. Appropriately called The Talons, these warriors are designed to carry out the will of the Owls. (Blu-ray Exclusive)
Batman Vs. Robin Audio Commentary (Blu-ray Exclusive)
A Sneak Peak at Justice League: Gods & Monsters – An advance look at the next DC Universe Original Movie with the creators and cast.
Bonus cartoons from the DC Comics Vault (Blu-ray Exclusive)
Deluxe Edition gift set (which includes a Batman figurine)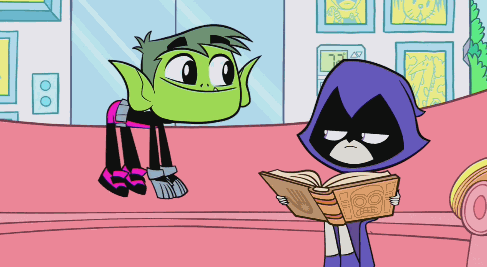 Television Releases

Teen Titans Go1 (Michael Jelenic and Aaron Horvath) (Season 2 Part 1) Rated TV-PG [22 min]– The Teen Titans return with a whole new bevy of baddies, beverages and adventures! Partner up with Robin, Cyborg, Raven, Starfire and Beast Boy to defend Jump City against slimy monsters, tyrannical villains and of course, crime fighting induced hunger pains. Starring Scott Menville, Hynden Walch, Khary Payton, Tara Strong, and Greg Cipes
I've always seen this series promoted heavily at Comic-Con, but haven't had the opportunity to sit down and watch it until now. Teen Titans Go! is a lot of fun for both adults and kids. There's a kooky sense of humor that is a step below the adult humor of Ren & Stimpy tailored with the whimsy of Adventure Time. All of the voice actors from the origin Teen Titans series are great, but I'm drawn to and prefer more this more childish, blocky animation style. BUY IT! (IF YOU LIKE SUPERHEROES). Otherwise NETFLIX IT! No special features.
Video Games
Go head-to-head in heart-pounding, adrenaline-pumping fighting action
Immerse yourself in a vibrant world of arresting visuals thanks to cinematic presentation
Put your skills to the test with all-new gameplay
Customize your attack with multiple variations of each character that affect both strategy and fighting style
Take the fight worldwide with fully connected online gameplay that pits you against other fighters in a global battle for dominance
Blu-Ray Deals and Steals
Game of Thrones (Season 1) – $19.95
The Wire: The Complete Series – $109.99
Annie (2014) – $14.99
The Babadook – $14.99
Iron Man 3 – $16.96
The Wolverine – $7.99
Everly – $15.99
22 Jump Street – $12.96
The Voices – $14.98
Cornetto Trilogy – $15.99
The Help – $9.95
Frank – $9.91
Insidious – $6.96
Man of Steel – $8.60
The Legend of Korra: Book Four – $22.93
All prices from Amazon.com. Best Buy, Frys, and Target all price match online prices.
What will you be taking home this week? Tell us in the comments section below!
---
You can find me on Twitter @TyRawrrnosaurus
All plot synopses come courtesy of IMDb.com