Welcome to your Netflix Streaming Report for August 27, 2015. After the long week you deserve a relaxing staycation with a bowl of popcorn, a bucket of ice cream, and only your Netflix queue to judge you. This past week, Netflix Watch Instant has been kind enough to supply us with White God, Jiro Dreams of Sushi, Girl Meets World, and more. Also, find out what's leaving in the month of September.
White God (Kornél Mundruczó) Rated R [121 min] – Thirteen-year-old Lili fights to protect her dog Hagen. She is devastated when her father eventually sets Hagen free on the streets. Still innocently believing love can conquer any difficulty, Lili sets out to find her dog and save him. Starring Zsófia Psotta, Sándor Zsótér, Lili Horváth, and Szabolcs Thuróczy
Far stronger visually than the message White God is trying to say within the story, but it's a fascinating watch nonetheless. You'll never find better dog actors than this.
Jiro Dreams of Sushi (David Gelb) Rated PG [81 min] – A documentary on 85-year-old sushi master Jiro Ono, his renowned Tokyo restaurant, and his relationship with his son and eventual heir, Yoshikazu. Starring Jiro Ono, Masuhiro Yamamoto, and Daisuke Nakazama
A beautiful documentary on an aging sushi master. There may not be a strong purpose or direction, however Jiro Dreams of Sushi is a quick, interesting documentary to digest.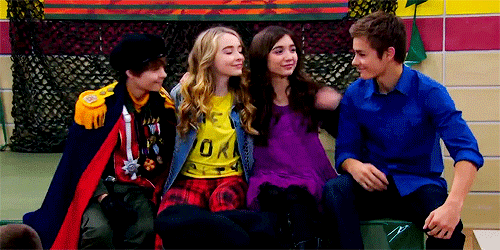 Girl Meets World (Michael Jacobs and April Kelly) Rated TV-G [23 min] – More than a decade after "Boy Meets World (1993)", Cory and Topanga Matthews are married and have two children. Their daughter, Riley, faces life lessons through her family, friends, and school–where her father is her history teacher–as her parents did when they were younger. Starring Rowan Blanchard, Sabrina Carpenter, and Ben Savage
For everyone excited to return to the world of Topanga and Cory, now's your chance to digest the entire new series in one fell swoop in case you missed it when it aired. I have really nothing to say about this show because I rarely watched Boy Meets World and have no real emotional ties to the series.
Byzantium (Neil Jordan) Rated R [118 min] – Residents of a coastal town learn, with deathly consequences, the secret shared by the two mysterious women who have sought shelter at a local resort. Starring Saoirse Ronan, Gemma Arterton, and Sam Riley
I have yet to see Byzantium, but I always remember seeing it on various lists back when it debuted in 2012. So I'm looking forward to checking it out.
Also newly available on Netflix streaming this week:
NCIS (Season 12)
The Kid with the Golden Arm
The incredible Bionic Man
The Hunt for Bin Laden
Heroes of the East
Executioners from Shaolin
Five Shaolin Masters
Gun Woman
A Wolf at the Door
October Gale
Law and Order: Special Victims Unit (Seaosn 16)
Survivor
And here's the LAST CALL on these titles for this September:
Leaving 9/1
Agent Cody Banks 2: Destination London (2014)
Better Than Chocolate (1999)
Bratz: Rock Angelz (2005)
Care Bears: Big Wish Movie (2005)
Care Bears: Journey to Joke-A-Lot (2004)
Crouching Tiger, Hidden Dragon (2000)
Curious George 2: Follow That Monkey! (2009)
Elektric Children (2012)
FernGully: The Last Rainforest (1992)
Lock, Stock and Two Smoking Barrels (1998)
Mortal Kombat: The Movie (1995)
Patch Adams (1998)
Perfume: The Story of a Murderer (2006)
Rugrats in Paris: The Movie (2000)
Rules of Engagement (2000)
Rumpelstiltskin (1987)
Sarah's Choice (2009)
She's the One (1996)
Sleepless in Seattle (1993)
The Lost Boys (1987)
Total Recall (1990)
W. (2008)
Leaving 9/2
Cheese and Chong's Hey Watch This (2010)
Leaving 9/4
Leaving 9/5
Marilyn in Manhattan (2012)
Leaving 9/9
Bratz: Friendship is Always in Style (2014)
Kicking It (2008)
Leaving 9/10
100 Below Zero (2013)
Becoming Chaz (2010)
War Witch (2012)
Leaving 9/13
Leaving 9/14
Leaving 9/15
Bratz: The Video: Starrin' & Stylin' (2004)
Valhalla (2013)
Leaving 9/16
"Hank: Five Years from the Brink" (2013)
Leaving 9/20
Leaving 9/22
National Geographic: Inside Guantanamo (2009)
National Geographic: The Battle for Midway (1999)
Leaving 9/26
Indy 500: The Inside Line (2011)
Lethal Force (2011)
Ron White: A Little Unprofessional (2012)
Leaving 9/29
Bratz: Desert Jewelz (2011)
Coriolanus (2011)
Leaving 9/30
Anchorman 2: The Legend Continues
If I Stay (2014)
Jack Ryan: Shadow Recruit (2014)
Jackass Presents: Nebraska (2013)
Nebraska (2013)
Saved! (2004)
Star Trek: The Motion Picture (1979)
Star Trek Into Darkness (2013)
The Expendables 3 (2014)
The Good Guy (2010)
The Hunger Games: Catching Fire (2013)
The Prince (2014)
The Skeleton Twins (2014)
The Wolf of Wall Street (2013)
Transformers: Age of Extinction (2014)
World War Z (2013)
What will you be watching this weekend?
Look forward to more new titles from the Netflix Streaming Report every Thursday on TTRC.
---
All plot synopses courtesy of IMDb.com