Brace your bank accounts, it's time to see what's Now Available to Own for the week of September 22, 2015. Every Tuesday we run down new movie, television, and video game releases that you can enjoy in the comfort of your own home, as well as some slick deals that can save you some coin. New on shelves this week are Pitch Perfect 2, Arrow (Season 3), The Flash (Season 1), and more.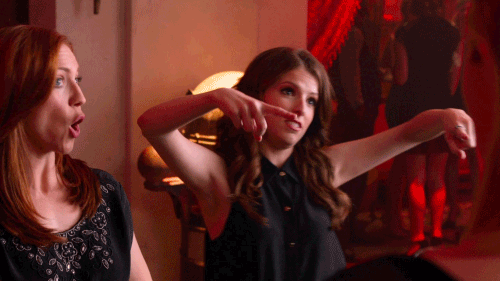 Movies on Blu-ray
Pitch Perfect 2 (Elizabeth Banks) Rated PG-13 [115 min] – After a humiliating command performance at Lincoln Center, the Barden Bellas enter an international competition that no American group has ever won in order to regain their status and right to perform. Starring Anna Kendrick, Rebel Wilson, Hailee Steinfeld, Brittany Snow, Anna Camp, Adam Devine, Hana Mae Lee, and Ester Dean [Watch the trailer]
With how surprised I was by the first film, blown away really, I still kept cautiously optimistic about the release of Pitch Perfect 2. Could lightning strike twice? Would Elizabeth Banks' directorial debut be any good? They hooked me with the first film, but would there be any gas left in the tank for a sequel? Honestly, it's OK. The jokes are there, but it's become a little too cartoonish. The Barden Bellas have basically gone full Glee. There isn't as much heart or direction and Beca gets tossed every which way. I like Pitch Perfect 2 for the silly entertainment that it is, but I wanted it to be better. I need more. And I was a little let down. But damn are there a lot of special features to make up for the fact. [Read my full review]
Special features include:
Never Before Seen Treblemakers Performance (Blu-ray exclusive)
The Making of the Riff- Off (Blu-ray exclusive)
Das Sound Machine Finale Breakdown (Blu-ray exclusive)
Snoop in the House (Blu-ray exclusive)
Green Bay Rap (Blu-ray exclusive)
Line-Aca-Rama (Blu-ray exclusive)
The World Chamionships of A Cappella (Blu-ray exclusive)
An Aca-Love Story: Bumper and Fat Amy (Blu-ray exclusive)
Elizabeth Banks' Directorial Debut (Blu-ray exclusive)
Legacy: Hailee Steinfeld (Blu-ray exclusive)
Aca-Camp (Blu-ray exclusive)
Residual Heat Internship (Blu-ray exclusive)
Deleted/Extended/Alternate Scenes
Gag Reel
Extended Musical Performances
The Bellas Are Back
Moonrise Kingdom: Criterion Collection (Wes Anderson) Rated PG-13 [94 min] – A pair of young lovers flee their New England town, which causes a local search party to fan out to find them. Starring Jared Gilman, Kara Hayward, Bruce Willis, Frances McDormand, Bill Murray, Tilda Swinton, Ed Norton, and Jason Schwartzman
A Criterion release with all the fixins. Moonrise Kingdom is a great movie. If you haven't seen it, it's now on Netflix. If you love the movie, I'd suggest seeking out this Criterion edition due to all the awesome extras.
Special features include:
Restored 2K digital transfer, supervised by director Wes Anderson, with 5.1 surround DTS-HD Master Audio soundtrack on the Blu-ray
Audio commentary featuring Anderson, Bill Murray, Edward Norton, Jason Schwartzman, and Roman Coppola
Selected-scene storyboard animatics
Interviews with cast and crew
Exploring the Set of "Moonrise Kingdom," an original documentary about the film
Norton's home movies from the set
Behind-the-scenes, special effects, and test footage
Auditions
Trailer
More!
PLUS: A booklet featuring an essay by critic Geoffrey O'Brien, plus a map of New Penzance Island and other ephemera
Chain of Command (Kevin Carraway) Rated R – A special operative witnesses the brutal slaying of his brother right after returning home from his third tour of duty. He finds himself a target of a deadly conspiracy so vast that there's no one to trust but himself. Starring Michael Jai White, Max Ryan, and Steve Austin
Chain of Command is your run of the mill B-action movie. There isn't anything special that makes it stand apart from the genre nor does it try to. Every bit of the film is generic down to its core. A harmless romp, Chain of Command doesn't say much of anything and you could find better uses of your time. I like Steve Austin because his acting is hilarious to watch, but other than that I can't think of any redeeming qualities for this movie.
No special features listed
Television Series
Arrow: The Complete Third Season (Greg Berlanti, Marc Guggenheim, and Andrew Kreisberg) – Oliver Queen's Arrow has become a hero to the citizens of Starling City – but he will quickly discover that doesn't mean he can lead a normal life in the spectacular third season of the hit series based on the DC Comics character. A new wave of diabolical masterminds – including the insidious and pervasive havoc wrought by the lethal and secretive League of Assassins – threatens all he holds dear. Team Arrow has grown into a powerful force, but the dangers and secrets that bind them together often put them at odds with each other, as the shadows cast by Malcolm Merlyn and the omnipotent Ra's al Ghul trigger shifts in loyalties and alliances that test them to their core. Starring Stephen Amell, Katie Cassidy, and David Ramsey
I've been resistant of Arrow since its inception. I was burned out by Smallville and being that it is on The CW doesn't help its case. Also, the outcry of love for Arrow at San Diego Comic-Con didn't sit right with me. Perhaps I was afraid the hype would be too much and I didn't want to be let down. It could be also that I have no affinity for the character as well. But given the opportunity, I finally decided to give it a go. The first season is very dry. It doesn't really get going until the last five episodes. The second season definitely amps up the energy and finds the much needed personality it was lacking in the first season. Now with an established fan base, this third season is stretching its legs and going really heavy in the DC mythology. I found it mildly enjoying as it acts as a true testament to how on board you are with the characters and whether or not you're willing to go on this journey with them. It doesn't feel as rewarding as the second season, but it's not bad.
Special features include:
Second Skins: Creating The Uniforms of Arrow
Nanda Parbat: Constructing The Villain's Lair
Two Arrow Audio Commentaries
Arrow at Comic-Con 2014
The Man Beneath the Suit – Atom's First Flight
Gag Reel
Deleted Scenes
The Flash: The Complete First Season (Greg Berlanti, Geoff Johns, and Andrew Kreisberg) Rated TV-PG [43 min] – Central City forensic investigator Barry Allen is, always charming and – as a result of a scientific experiment gone awry – now the fastest man alive! He's The Flash, zigzagging through the action-packed new series from the creative team behind Arrow and based on the supersonic DC Comics character. With his life shadowed by his mother's murder and his father wrongly convicted of the crime, Barry finds that his newfound power of super speed grants him the ability to move through Central City like an unseen guardian angel. Barry quickly discovers he's not the only "metahuman" created by the explosive disaster – and not everyone is using their new powers for good. Now, to protect the innocent, Barry and his close friends who know his secret, race to combat evildoers in one astonishing adventure after another. Starring Grant Gustin, Candice Patton, Danielle Panabaker, Carlos Valdes, Tom Cavangh, and Jesse L. Martin
While I was busy burning through Arrow, I made time to check out The Flash as I have heard delightfully positive words spoken about the spin-off series. I've made it through half of the first season and I am really liking what I've seen. There's far more personality and fun to be had in The Flash than its brooding green-hooded counterpart. There's a great balance of tone if you like both series. What's most interesting about The Flash is the scientific details it squeezes in to ensure the physics of the character makes sense. The biggest issue I'm having is with the rotating flavor of the week villain. It gives our hero a fast learning curve to work with, but doesn't give Barry a lot of time to breath and reflect. It's always on to the next one. The story progression involving his mother's murder is exciting and builds up a unique through line, whereas the plot against the Glades in the first season of Arrow felt like it was left on the back burner. The Flash is a grand ol' time with a lot to gain and easily bingeable.
Special features include:
The Fastest Man Alive!
Creating the Blur
The Chemistry of Emily and Grant Screen Test
Behind the Story: The Trickster Returns!
DC Comics Night at Comic-Con 2014 Presenting Gotham, The Flash, Constantine and Arrow
Audio Commentary
Deleted Scenes
Gag Reel
More Titles Now Available (I Haven't Seen These):
Toyko Ghoul: The Complete First Season
Saint Laurent
Results
Video Games

FIFA 16 (EA Canada) [EA Sports] – Available for PlayStation 3, PlayStation 4, Xbox 360, Xbox One, PC, Android, and iOS – FIFA 16 innovates across the entire pitch to deliver a balanced, authentic, and exciting football experience that lets you play your way, and compete at a higher level. And with all new ways to play! With innovative gameplay features, FIFA 16 brings Confidence in Defending, Control in Midfield, and gives you the tools to create more Moments of Magic than ever before. Fans new to the franchise, or skilled players looking to improve their game will have a chance to Compete at a Higher Level using the all new FIFA Trainer. Innovation Across the Entire Pitch. New Ways to Play. Compete at a Higher Level.
Although FIFA 16 is just another rehash of a sports game, this latest entry seems like they've really upped the ante to provide some great improvements. And most progressive is the fact that you can now play as Women's National teams. I love playing soccer. Watching it is great if the match is good. But play soccer on a video game level may be my limit.
Key features include:
Defensive Agility
Defend as a Unit
New Tackling Fundamentals
Interception Intelligence
Passing With Purpose
No Touch Dribbling
Dynamic Crossing
Clinical Finishing
FIFA Trainer
Skill Games: Basic Level
Women's National Teams
FUT Draft Mode
Blu-Ray Deals and Steals
Iron Man 3 – $14.99
The Hunger Games: Mockingjay – Part 1 – $14.96
Captain America: The Winter Soldier – $16.99
The Return of the Living Dead – $5.96
Team America: World Police – $8.99
The Hills Have Eyes (2006) [Unrated] – $5.96
Arrow (Season 1) – $14.99
Sin City: A Dame to Kill For – $14.96
Pretty Woman – $8.99
All prices from Amazon.com. Best Buy, Frys, and Target all price match online prices.
What will you be taking home this week? Tell us in the comments section below!
---
All plot synopses come courtesy of IMDb.com